Accurate Time essential for Safe and Efficient Train Movement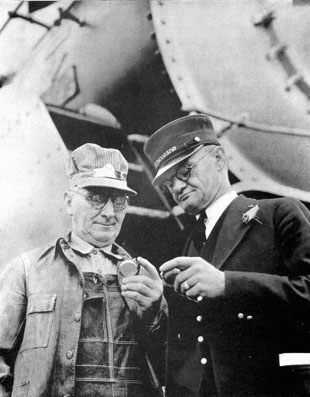 Time is an important factor in railway operations. Timetables depend on train crews knowing what time it is, but in the early years of railroad operation this was not an easy task. Several major accidents occurred because of differences in time. Safe operation and success of the growing railroads depended on keeping time more accurately.
Solar Time varies with Distance
During the early growth years of the United States and Canada, time of day was a local matter, every community and town world set its official clock, if it had one, or a well-known clock (on a church steeple or in a jeweler's window, for example), according to the local position of the sun. This served adequately until the introduction of the steam engine, the telegraph, and rail travel, which made it possible to travel fast enough over long distances to require almost constant re-setting of timepieces, as a train progressed in its daily run through several towns. When traveling to the east or to the west, actual solar time would change by one minute every twelve and 1/2 miles. Sun time could differ between sides of a large city. These differences often let to confusion.
Railroad Standard Time Introduced
During the early years most trains were operated on a single track, with sidings provided at intervals to allow trains to pass each other. Railroads operated using a timetable in order to avoid collisions between trains and to move trains efficiently over the railroad lines. Timetable operation required that all moving trains use a standardized time.
Each railroad began to try to standardize time based on the local time standard adopted by its home city or an important city on its line. Some of the western railroads used Chicago time, others used St. Louis time. The Union Pacific operated on at least six different time standards, based on sun time at Omaha, Jefferson City, St. Joseph, Denver, Laramie and Salt Lake City. When it was noon in Chicago it was 11:50 in St. Louis and 11:27 in Omaha. Where different railroads connected each railroad used its own time standard to govern the arrival and departure of trains.
In some cities, such as Kansas City, jewelers took their own readings which could vary as much as 20 minutes from another jewelers reading. Kansas City resolved this problem by dropping a large ball from a high mast at the official noon.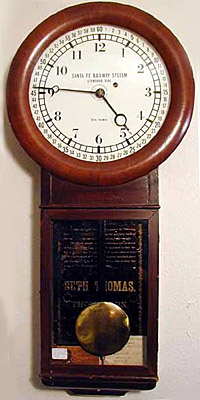 Passengers and shippers, as well as railway officers and employees responsible for operation of trains, sale of tickets, and making of schedules, were often confused and bewildered by the multiplicity of time standards throughout the country. Mistakes and errors were frequent and sometimes disastrous.
The General Time Convention of October 11, 1883, adopted Standard Time in four time zones (Eastern, Central, Mountain, and Pacific) the U.S. and Canada by the railroads to standardize railroad schedules, based upon mean sun-time on the 75th, 90th, 105th, and 120th meridians west of Greenwich. These four meridians are approximately on the longitudes of Philadelphia, Memphis, Denver, and Fresno.
On November 18, 1883 at twelve o'clock noon, as Greenwich Mean Time (GMT) was transmitted via telegraph, the U.S. Naval Observatory began signaling the new time standard and railroad stations reset their clocks. Train crews were instructed as to what change to make in their watches. They were also instructed to check their watches with the telegraph operator upon arrival at the next scheduled stop. Newspapers referred to that day as "the Day of Two Noons."
There was no legislative enactment or ruling, the railroads simply adopted a zone system encompassing North America, and assumed the public would follow. Most people simply accepted the new time, but a number of cities and counties refused to accept "railroad time", which, after all, had not been made law. Standard time remained a local matter until 1918, when it was made law as part of the introduction of daylight saving.
The railroads installed a Standard Clock in major stations. These were high quality clocks maintained to strict standards. In order to ensure these standard clocks were always correct, a time signals was transmitted by telegraph once every 24 hours, using the resources of the U.S. Naval observatory. The correction signal took the form of a string of dots at one second on, one second off intervals and was transmitted via Morse telegraphy for three minutes prior to the hour (12:00 p.m. EST). This was followed by a 10 second silent period, then a dash at precisely 12:00 p.m. Station agents were thus given a way to spike (correctly set) the clocks at their location.
Railroad Watches need to be Accurate
To further complicate matters in the early years, reliable watches were expensive. Railroad companies differed in their approach to this problem. There is documentation that as early as 1850, the Boston and Providence Railroad ordered 45 English watches, from Bond & Son, Boston. The Pennsylvania Rail Road also purchased pocket watches and published the rule: "Each engineer will be furnished with a watch which shall be regulated by the Station Agent at the commencement of each trip and must be deposited with him when the engine returns. If not returned in as good order as it was received, the Engineer must pay the expense of repairs." Conductors furnished their own watches.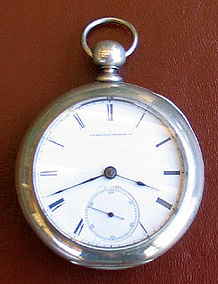 Nevertheless, the concept of controlling the quality of the watches had merit. By 1853, the Boston & Providence Railroad may have given up on the ownership of watches, but not the concept of controlling their quality. They published two rules: "7. Conductors will submit their watches to Bond & Sons, 17 Congress street, Boston, for examination, and procure from them a certificate of reliability which will be handed to the Superintendent. 8. Conductors will report to Messrs Bond any irregularity in the movements of their watches, and they will clean, repair and regulate them, at the expense of the Corporation, furnishing Conductors with reliable watches in the interim."
Some of the earliest American machine-made watches went right into railroad service. The American Watch Co. furnished some model 1857 Appleton, Tracy & Co. watches to the P.R.R. in 1866 and the Elgin B.W. Raymond, built in 1867, also saw service on the Pennsylvania Rail Road. These two were typical of watches used in railroad time service on those roads specifying watches of a certain minimum quality. Not all railroad companies had the same requirements. In the early years on some railroads only the conductor carried a pocket watch, sometimes furnished by the company, eventually the conductor and engineer were both required to carry a pocket watch and were expected to compare times periodically.
During the 1880's, more railroad companies had established standards and had listed approved models, such as Waltham's 1883 model Crescent Street Grade and Elgin's B. W. Raymond. The American Railway Association held a meeting in 1887 to define basic standards for watches, which resulted in defining the form of watch certificate, which certified the inspection date and accuracy of a watch being used on a railroad.
Demand for better accuracy led to Railroad Watch Standards
Inaccurate watches created differences in perceived time, leading to accidents. In the 1880s, a railway conductor was actually indicted for manslaughter in connection with an accident in which it was determined his pocket watch was incorrect.
A horrible train accident near Cleveland, Ohio on April 19, 1891 pointed out that the nation's railroads were not all running on reliable timepieces. The morning fast mail train was heading East. On the same track an accommodation train was heading west. The engineer and conductor of the accommodation train were given written train orders near Elyria to let the fast mail train pass them at Kipton, a small station west of Oberlin.
The accommodation train engineer was told that fast mail train was running on time as they left Elyria, also on time, according to the engineer's pocket watch. What was not known was that the engineer's watch had stopped for 4 minutes, then started again. Had the conductor looked at his own watch the impending disaster could have been avoided. The two trains collided head-on at Kipton, the accommodation train under full brakes but the fast mail at full speed, the accommodation train hadn't made it to the siding on time. Both engineers and nine other people were reported killed. The Lakeshore and Michigan Southern Railway, and the US Post Office also sustained great property losses.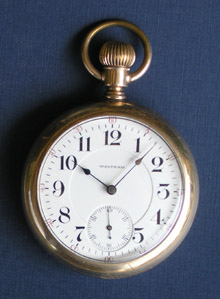 Following the accident the railroad industry was called upon to create standards which all railroads would follow. By 1893 the General Railroad Timepiece Standards were becoming adopted requiring watches in use by employees responsible for train movement meet the following recommended minimum standards:
Be open face (no lid over the dial), size 18 or 16 (Lancashire Gauge for measuring watches)
Plain white dial, bold black hands, and bold Arabic numbers
Be lever set with the winding stem at 12 o'clock (to set the time, the case had to be opened, lever pulled out to set the hands, to prevent an accidental change)
Have a minimum of 17 jewels, a double roller, steel escape wheel, micro metric regulator and grade on back plate
Be adjusted to at least 5 positions (stem up, left side up, right side up, face up and face down)
Temperature compensated for 34 to 100 degrees Fahrenheit
Keep time accurately to within a gain or loss no more than than 30 seconds a week
Only approved railroad grade watches meeting these standards were allowed, however, older railroad grade pocket watches already in service which met the older standards could continue to be used on many railroads, as long as they continued to meet the 30 second per week requirement. Manufactures included Waltham, Elgin, Hamilton, Hampden, Howard Watch Co, Illinois, Peoria Watch Co, Rockford, Seth Thomas, South Bend, Ball and others.
Train dispatchers, conductors, enginemen, brakemen, yardmasters and foremen of yard engines were required to equip themselves with approved railway standard watches. Conductors and enginemen were always to compare their watches before starting on a run or before commencing work each day, other members of the train crew must compare their watches with the conductor's or engineman's watch at the first opportunity.
Railroad Watch Inspection Ensures Accuracy
In order to ensure accuracy and facilitate safe railroad operation almost all railroads required periodic watch inspection. Webb C. Ball, a Cleveland jewelry store owner, was commissioned by the Lakeshore and Michigan Southern Railway as their Chief Time Inspector following the 1891 collision, Ball also contributed to the nationwide acceptance of these new standards. Ball promoted adoption of the new standards and built a time service which grew to control the inspection of watches railmen used to ensure their accuracy on half of the U.S.'s railroads, according to Ball. Other time service contractors included John C. Adams, Giles, Bro. & Co., J.W. Forsinger, American Railroad Time Service Co., National Railway Time Service Co. and J.H. Mace Co.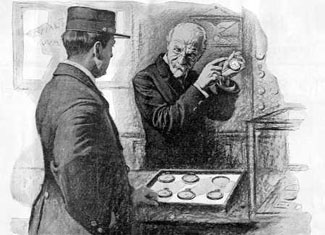 Some railroads, including the Atchison Topeka & Santa Fe, Baltimore & Ohio, Canadian Pacific and Southern Pacific either already had or developed their own time service.
Railroaders under time service rules had to bring their watches to the inspector, who would compare it to a standard clock to ensure it remained accurate, typically either twice a month, or every other week depending on the specific railroad's rules. On many railroads the conductors and engineers were issued a small watch card (certificate) to record the watches performance, watch's deviation from standard time would be noted. If a watch fell behind or gained more than 30 seconds in 7 to 14 days it had to be sent in for repair. Railroaders were prohibited from setting their watches unless it was an emergency. Watches were typically inspected every six months, and cleaned by a jeweler every 18 months to ensure that they all remained accurate. Loaner watches were provided by jewelers while a watch was in for cleaning or repair.
Railroad Watch Standards Evolve
Watch standards continued to evolve as railroad grade watch manufacturing quality improved and trains got faster. R. D. Montgomery, General Watch Inspector for the Santa Fe Railway specified regulation for new watches designated as of 1930 to be standard is described as follows:"16 size, American, lever-setting, 19 jewels or more, open face, winding at "12", double roller escapement, steel escape wheel, adjusted to 5 positions, temperature and isochronism, which will rate within a variation not exceeding more than 6 seconds in 72 hour tests, pendant up, dial up, and dial down, and to be regulated within a variation not exceeding 30 seconds per week". Like other railroads, the Santa Fe updated its list of approved watches each year.
As diesel locomotives began to be used during the 1940's, newer railroad grade watches with a non-magnetic hairspring became required.
Wrist Watches Approved for Railroad Use
During the later part of the Nineteenth century wrist watches, also then known as wristlet watches, were designed for use by women. Because of their small size few believed wristlets could be made to achieve any level of accuracy. Twentieth century warfare depended on tactical timing, and pocket watches were difficult to remove from a pocket to read while in combat. During World War 1 (WWI) soldiers were given wrist watches, often referred to as trench watches, which could be more easily read when the soldiers hands were full. These watches were made with pocket watch movements that were adapted to be strapped to a soldiers wrist. After the war the more convenient wrist watches became popular for civilian use, with wrist watch sales dominating watch sales to the general public by 1930.
Railroad grade pocket watches remained the only watches approved for railroad service until the late 1950's when railroad grade wrist watches were developed that could maintain the same accuracy. The "Trainmaster" with a Swiss made 21 jewel movement, introduced by Ball in 1959 and the "B.W. Raymond" with a 23 jewel American made movement, introduced by Elgin in 1960, were both high grade manual-wind wrist watches that were gradually approved for use on most American railroads. Ball later added a 25-jewel self-winding version of the watch.
In 1962 Bulova introduced a railroad-approved version of their Accutron tuning-fork wrist watch using an electronic "214" movement. Hamilton also produced a railroad electric wrist watch using a Hamilton 505 movement which was briefly approved for use on some railroads, although it was later withdrawn due to issues with reliability.
By 1950 imported Swiss watches had become popular in the United States. The Waltham Watch Company founded a subsidiary in Switzerland in 1954, but Waltham ultimately went out of business in 1957. Elgin discontinued watch manufacturing in the US in 1968. The last American railroad pocket watch was the grade 992B sold by the Hamilton Watch Co. in 1969.
SEIKO introduced wrist watches with a quartz movement in the early-1970's. The inherent accuracy and low cost of production has resulted in the proliferation of quartz clocks and watches since that time. Today railroad employees can still purchase SEIKO, Citizen, Pulsar and Invicta quartz wrist watches with railroad approved dials.
Today the use of radios, automatic block signals, and central computer tracking of trains has lessened the role of the railroad watch on many railroads, yet watch requirements still remain important to safe railroad operation. On the Union Pacific, for example:
Rule 1.48 Time: While on duty, crew members must have a watch. Other employees must have access to a watch or clock.
The watch or clock must:
• Be in good working condition and reliable.
• Display hours, minutes, and seconds.
• Not vary from the correct time by more than 30 seconds.
• Be compared with the time source designated in special instructions.

Top and bottom photos stock photos, watch photos and text by Richard Boehle.
Entire web site copyright 2002-2012, DigitalNetExpress.com, Burbank, California.