Atchison, Topeka & Santa Fe Brings Competition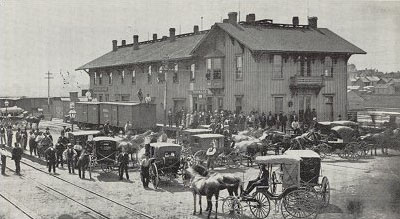 The Atchison and Topeka Railroad was chartered on February 11, 1859, to join Atchison, Kansas, on the Missouri River, and Topeka, Kansas, with Santa Fe, New Mexico, under the leadership of Cyrus K. Holliday, one of the founders of Topeka, along with Luther Challis of Atchison.
Kansas was admitted to statehood in 1861. S. C. Pomeroy was elected U. S. Senator. Pomeroy introduced a bill which was approved by Congress, providing a federal land grant for the Atchison, Topeka and Santa Fe Railroad to build a railroad line to the Colorado state line, provided construction was completed within 10 years. The railroad would receive blocks of land on alternating sides of the line as construction progressed. The bill was signed by President Lincoln on March 3, 1863. On February 9, 1864 the Kansas state legislature accepted the land grant.
Construction began in began in Topeka, Kansas on October 30, 1868 under the direction of Thomas J. Peter, the ATSF's first Chief Engineer and Superintendant. ATSF Locomotive No. 1, the Cyrus K. Holliday, arrived on May 30, 1869 along with 5 flatcars loaded with iron rails. Construction was completed 27 miles westward to Burlingame in September 1869. Following financial troubles, the ATSF was reorganized, with financial control shifting to Boston, Mass. An office was opened in Topeka to survey, classify and sell farm land along the line from the land grants that were awarded.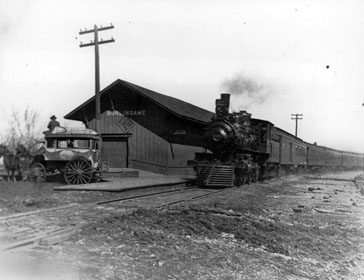 The line westward to Emporia was completed in July 1870 giving the company access to the cattle business. In July 1871 tracks were extended to Newton, 60 miles south of Abilene on the Chisholm Trail. At Newton a large cattle yard was opened to attract herds being driven northward from Texas, competing with the Kansas Pacific cattle yard at Abilene.
The 50 mile line between Topeka and Atchison was completed in May 1872.
Construction of the line westward through Kansas continued in 1872, reaching Hutchinson on June 17, Great Bend on August 5, and Dodge City on September 19. Tracks reached the Colorado state line on December 28, meeting the requirements of the 1863 land grant legislation. About 360 miles of track had been built within 9 months, the main line stretched 469 miles from Atchison to the Colorado border. Construction crews were made up of primarily Irish immigrants along with Civil War veterans.
Construction continued to Granada, Colorado, 12 miles from the state line where construction halted as funds for construction had run out, and the slow U. S. economy made additional investments difficult to find.
Construction Westward from Granada
Construction westward resumed in the Spring of 1875 with the construction of a line from Granada 133 miles west to to Pueblo by the Pueblo and Arkansas Valley Railroad (PAV). Train service to Las Animas began September 13, 1875, and to Pueblo on March 1, 1876. At Pueblo the ATSF connected with the Denver & Rio Grande. To the east the Kansas City, Topeka and Western line, between Topeka and Kansas City, was leased in 1875, providing the ATSF access to Kansas City.
ATSF construction began in the Raton Pass in February 1878. Construction of the 248 mile line from the Colorado - New Mexico border at Raton Pass to Albuquerque was completed by the New Mexico and Southern Pacific Railroad Company, chartered in New Mexico. The line to Las Vegas, New Mexico, opened July 4, 1879. The line opened from La Junta through the Raton Pass to Albuquerque in April 1880. Santa Fe, the original destination of the railroad, was connected by an 18 mile branch from Lamy, New Mexico in February 1880.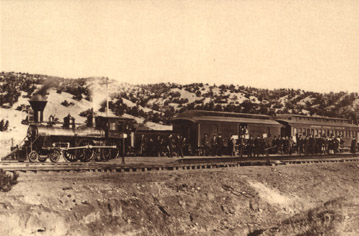 The line was extended southward along the Rio Grande Valley from Albuquerque to San Marcel, 103 miles south, on October 1, 1880. South of San Marcel the line was constructed under the charter of the Rio Grande, Mexico & Pacific Railroad Company. At Rincon, 76 miles south of San Marcel, the line divided with one branch going 128 miles southwest to Deming, and the other 78 miles southeast to El Paso, Texas.
On March 8, 1881 the ATSF and the Southern Pacific lines were connected at Deming, New Mexico, forming a national transcontinental rail route. ATSF and Southern Pacific officials held a brief ceremony and drove a silver spike to commerate the event. The ATSF had hoped for profitable traffic from California, however, the connection at Deming saw little traffic as the SP continued to direct eastbound traffic through a more profitable connection at Ogden, Utah. This arrangement was not considered satisfactory for the ATSF.
Atlantic & Pacific Railroad
In 1879 the ATSF acquired half interest in the Atlantic & Pacific Railroad Company, a railroad company that had received a large federal land grant in 1866. Westward construction of the Western Division of the Atlantic & Pacific began at Isleta, south of Albuquerque, following the Atlantic & Pacific Charter along the 35th parallel, as a joint effort by the St. Louis and San Francisco Railroad (Frisco) and the ATSF. This new line was projected to enter California along the 35th parallel, then proceed up California's Central Valley to San Francisco.
By purchasing a controlling interest in stock in the St. Louis and San Francisco Railroad in early 1882, Collis P. Huntington and Jay Gould blocked the ATSF interest in completing the Atlantic & Pacific line to San Francisco. In a compromise agreement, the joint line reached Needles in August 1883 where a connection was made with the SP's newly built branch from Mojave. As predictable, the connection saw little freight traffic as the SP used discriminatory practices to direct eastbound traffic over its own line through Yuma. Through passenger service was begun, following completion of the ATSF bridge over the Colorado River at Needles.
California Southern Builds Northward from San Diego
San Diego businessmen had long fought for a railroad. After the failure of the proposed Texas Pacific Railway, San Diegans, most notably land developers Frank and Warren Kimball, unsuccessfully tried to convenience the SP to extend a line to the city during the late 1870's. In October 1880 Nickerson, President of the ATSF, and his associates incorporated the California Southern Railroad to build a railroad and telegraph line northward from San Diego toward San Bernardino with the intention of meeting the Atlantic and Pacific as part of an arrangement between the San Diegans and the ATSF.
The California Southern Railroad began construction between National City and San Diego in 1881. Construction of the line north from San Diego through Oceanside, then inland reaching Fallbrook, in January 1882. Construction continued north through Temecula Canyon reaching Temecula in March 1882, then continuing northward through Elsinore and Pinacate, with service starting May 1,1882 (the station was later relocated to Perris).
The California Southern construction crews reached Colton in August 1882, where they were to build a junction crossing the Southern Pacific (SP) line.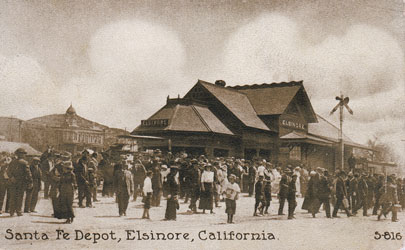 In an attempt to prevent the California Southern Railroad crews from completing construction, the SP parked and then slowly moved a locomotive and gondola along the SP track at the location of the planned junction. As tension rose Governor Robert Waterman ordered San Bernardino County Sheriff J.B. Burkhart to enforce the state court order. The SP backed down allowing the CS to install a crossing and complete their line to San Bernardino. The line was completed to San Bernardino in September 1883.
Southern Pacific Line from Needles to Mojave
In August 1884 the ATSF managed to reach an agreement to lease, then to buy the SP line from Needles to Mojave. Reports differ as to the reason SP accepted this agreement, a popular belief was that ATSF management had threatened to inaugurate ruinous transcontinental competition to Guaymas over its Sonora Railway line in Mexico. Another possibility is that the Atlantic & Pacific was in a position to build an entirely new line from Needles to San Francisco. By 1884 the political climate had changed. The anti-competitive practices of the Central Pacific and Southern Pacific had began to cause a public resentment and driven up the cost of influencing legislation. On October 1, 1884 the Atlantic & Pacific took over the Mojave Division.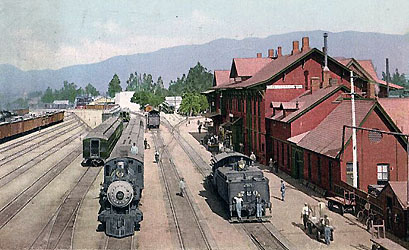 Also in October 1884 the ATSF purchased the financially troubled California Southern Railroad. The California Southern line was to be extended 50 miles northward through the Cajon Pass to the Atlantic & Pacific Mojave line (former SP line) at Barstow. The terrain presented difficult challenges, ATSF railroad engineer Ray Morley and local engineer Fred Perris surveyed the line, which included a climb of 1000 to the the divide at 3,823 feet in elevation. Chinese and Mexican laborers worked to construct the line. On November 15, 1885 the last spike was driven on the new line through the Cajon Pass. Passengers could now travel and goods could be shipped to and from other Pacific ports from the San Diego docks.
Santa Fe Line Brings Competition and Lower Prices
With the ATSF line from Kansas to San Diego the Pacific Coast now complete, competition for business began. The area's freedom from transportation monopolies was assured. Prices dropped, a ticket from the Mississippi River, which had cost $125 was reduced to $25 or less by 1887. Citrus and produce farming also boomed, a result of decreased shipping costs.
Line to Los Angeles
Economic growth in Los Angeles and growth of the port at San Pedro, along with continuing problems with washouts in Temecula Canyon encouraged ATSF management to build an alternate line to the Pacific Ocean. Initially the ATSF leased trackage rights over the Southern Pacific from San Bernardino to Los Angeles. The Santa Fe incorporated the San Bernadino & Los Angeles Railway in 1886, with grading beginning in December. Santa Fe purchased the Los Angeles & San Gabriel Valley Railroad from Los Angeles to Duarte (20 miles) in 1887. The line between San Bernardino and Duarte (40.1 miles) was completed in May 1887. The completed line provided Santa Fe its own line from San Bernardino to Los Angeles via Pomona, Glendora, Duarte and Pasadena, making Los Angeles its principal Southern California terminus.
A second mainline to connect Riverside and Los Angeles was incorporated in 1885 as the Riverside, Santa Ana & Los Angeles Railroad. The line opened from Riverside, via Arlington, Rinco, and Orange to Santa Ana (42.9 miles) in October 1887. The line from Santa Ana south to Capistrano (22 miles) opened in November 1887. A line connecting Capistrano with the California Southern line at Los Angeles Junction (26.8 miles), and the line connecting Los Angeles, Santa Fe Springs, and Anaheim with Orange (31.5 miles) both opened on August 12,1888, providing a direct line from San Diego to Los Angeles via the new "Surf Line". Fred Perris supervised the constructions of these lines.
Completion of a branch to Redondo Beach in April 1888 provided the ATSF with a harbor facility in the Los Angeles area. In September 1889 most of the ATSF affiliated lines in Southern California were consolidated into the Southern California Railway.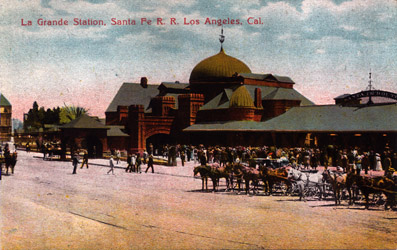 The ATSF assumed control of the Gulf, Colorado, and Santa Fe in March 1886, providing a connection with cities in Texas and the Gulf of Mexico at Galvenston.
On April 29, 1888 the Chicago, Santa Fe & California line opened between Kansas City and Chicago, linking Chicago to the Santa Fe Route. The California Limited, train Nos. 3 & 4, Santa Fe's premier daily transcontinental passenger train, began service between Chicago and L.A. on a 2 1/2 day schedule, on November 27, 1892. The California Limited included four sleeping cars, a dining car which featured "the best Fred Harvey food on rails," and a club car.
Santa Fe opened the La Grande Station in Los Angeles on July 29, 1893, at 2nd and Santa Fe. The station was unique for Southern California in its Moorish-inspired architecture and included a first-class restaurant, The Harvey House. Damage from the Long Beach earthquake of 1933 forced its closure.
When Los Angeles Union Station opened in May 1939, the Santa Fe, Southern Pacific and Union Pacific all relocated passenger service to the new station. A Harvey House Restaurant was also located in Union Station.
Harvey Houses offer Good Food for Travelers
The Harvey Houses along the Santa Fe line, founded by Fred Harvey, established a reputation for fine food and good service following their establishment at the Topeka, Kansas depot in 1876.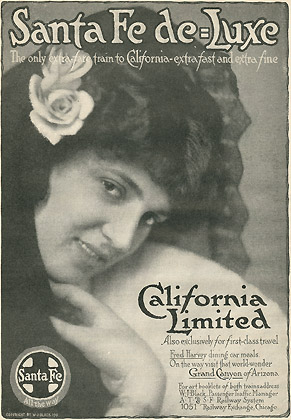 In 1878, Harvey contracted with the railroad to operate a hotel at Florence, Kan., where passengers could find good eating and pleasing accommodations. A chain of "Harvey House" hotels and restaurants followed. Harvey recruited waitresses from the East "young women of good character, attractive and intelligent, 18 to 30," which came to be referred to as the Harvey Girls. Harvey built his empire to include 47 depot diners and restaurants, 15 railroad hotels and 30 dining cars.
References:
Glenn D. Bradley, The Story of the Santa Fe. 1920, Gorham Press, Boston. Second and Enlarged Edition 1995, Omni Publications, Palmdale, CA. ISBN 0-88418-006-9.
Keith L Bryant, Jr., History of the Atchison, Topeka and Santa Fe Railway. 1974, Macmillan Company, New York. Reprinted 1982 University of Nebraska Press, Lincoln and London. ISBN: 0-8032-6066-0.
John R. Signor, Santa Fe's Los Angeles Division. 2103, The Santa Fe Railway Historical & Modeling Society, Inc, Midwest City, OK. ISBN 978-1-933587-30-1.
Links to other sites for additional information:
Harvey Houses operated by Fred Harvey - information about Harvey House locations, restaurants, hotels and shops with photos.
Santa Fe Railway Historical & Modeling Society - information about all aspects of the former Santa Fe Railway, from its rich history and fascinating operations to its distinctive equipment and facilities.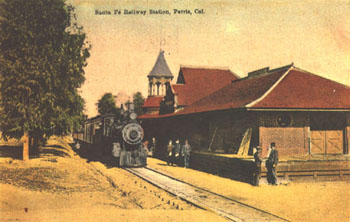 Orange Empire Railway Museum is located on the site of Pinacate, a nineteenth century mining supply town, which in 1882 became one of the initial station locations on Santa Fe Railway's original transcontinental line which terminated in San Diego. The museum's mainline follows the original Santa Fe right of way.
Late in 1885 a title dispute arose over land at Pinacate. In April 1886 the station, siding and water tower were relocated about 1 1/2 miles north to the new town of Perris, named after Fred T. Perris, then chief engineer of the California Southern, a Santa Fe subsidiary. The red brick depot in Perris was completed in 1892. The Perris depot is preserved in part by the Museum.
Railroad History Train Technology Railroad Operation Railroad Time Museums & Heritage Railroads Railroads Today



Pacific Time

Text Richard Boehle. Photo (1) ATSF Topeka General Offices, circa 1880, courtesy Kansas State Historical Society, (2) ATSF Depot at Burlingame, circa 1880-90, ATSF photo, courtesy Kansas State Historical Society, (3) ATSF train waits on siding in New Mexico, J. R. Riddle photo, (4) Santa Fe Depot, Lake Elsinore, vintage post card, RailsWest.com collection, (5) Santa Fe San Bernardino Depot 1915, the station completed 1885, was destroyed by fire in 1916, (6) La Grande Station, Los Angeles, Newman Post Card Co. Photo, RailsWest.com collection), (7) California Limited Ad, Mc Clure's 1911, Rails West .com collection.
Entire web site copyright 2002-2015, DigitalNetExpress.com, Burbank, California.