Heritage Railroads in the Western United States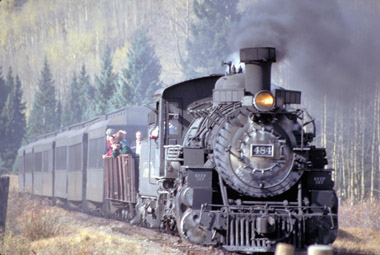 Heritage Railroads throughout the West operate passenger trains along a section of original right of way, often using vintage railway cars and locomotives, for the public's learning and enjoyment. Preservation, research and interpretation of these historic railway lines provide passengers with a first hand experience riding the railroad and help communicate the lessons of history, in order that present and future visitors may learn from the past.
The following list of heritage railroads in the western United States, with links to their web sites, is provided for additional information. For specific questions about the railroads, visitor hours, school arrangements or their collections, please visit their web site or contact them directly. Reservations are required for several of these railroads, especially during the tourist season.
Some railroad museums also operate heritage railroad lines which are not included on this list, please see the railroad museum listing.
Alaska:
Arizona:
California:
Colorado:
Hawaii:
Kansas:
Nevada:
New Mexico:
Oregon:
South Dakota:
1880 Train, 222 Railroad Ave. Hill City, SD 57745 or 103 Winter Street, Keystone, SD 57751, (605) 574-2222
Texas:
Utah:
Washington:
Please note that RailsWest.com and Digital Network Express do not control the content of linked web sites, the organizations who own these web sites accept sole responsibility for their content.
Preservation: Rail Transportation Museums Heritage Railroads Depot Museums American West History Museums
Sharing A Heritage Railroad History Train Technology Railroad Operation Railroad Time Museums & Heritage Railroads Railroads Today
| | |
| --- | --- |
| Pacific Time | Entire web site copyright 2002-2019, DigitalNetExpress.com, Burbank, California. |