Southern Pacific Railroad Los Angeles Depots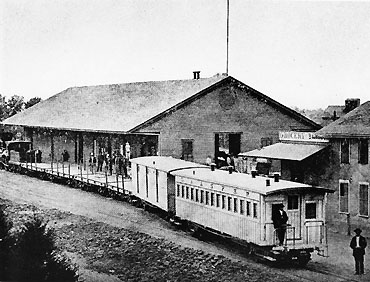 The Southern Pacific Railroad was granted a subsidy in November 1872, from Los Angeles businessmen and residents who feared being left off a main line of a southern transcontinental road. City leaders gave their holdings in the Los Angeles & San Pedro Railroad which linked Los Angeles with the San Pedro Bay at Wilmington, to the Southern Pacific Railroad. In addition, the county provided a $602,000 cash subsidy to the Southern Pacific and rights of way to build lines to Pomona and Anaheim.
Southern Pacific work crews began construction of a branch line to Anaheim in the summer of 1873, which opened on January 17, 1875.
A rail line was extended from the LA&SP Depot at the corner of Alameda and Commercial streets to Naud Junction, near the junction of Main Street and Alameda Street, where one line continued 22 miles northward reaching San Fernando in April 1874, and the other 29 miles eastward to Spadra, also in April 1874.
On September 5, 1876, at Lang Station, near Palmdale, Charles Crocker, President of the Southern Pacific Railroad drove a gold spike to complete the San Joaquin Valley line. Southern California and Los Angeles were linked with San Francisco and the East. A train from San Francisco reached Los Angeles the same day.
The SP line continued eastward from Spadra through a new town of Colton, seven miles south of San Bernardino in July 1875, and Indian Wells (Indio) in May 1876. The line reached the Colorado River across from Fort Yuma, Arizona in 1877.
Southern Pacific Early Depots
For a brief time the former Los Angeles & San Pedro Commercial Street depot served as the terminal for the Southern Pacific's overland route to Los Angeles.
In 1876 SP opened the Los Angeles Junction Station (also known as River Station), on the west side of North Spring Street, in an area just northeast of the central city known as "the Cornfield," bound by North Spring Street and North Broadway. The two-story depot offered separate "ladies' and gentlemen's reception and waiting rooms," and by 1883 was upgraded to include a hotel and dining room. Although the original buildings are now gone, today this area is being transformed into the Los Angeles State Historic Park and archeology of the site has revealed foundations from the buildings at this location.
Southern Pacific Los Angeles Arcade Depot
In February 1889, the SP passenger service moved to the Arcade Depot at 5th and Central Streets. The depot was a massive, wooden "olive grey" Victorian structure following the style of European train stations. The location was more central to Los Angeles. The 500 foot long Romanesque style station included a three track wide train shed with an arched roof and skylights which allowed passengers to board trains without being affected by the weather. A large garden was located outside the station. A fully-grown Washington fan palm stood outside the station's entrance welcoming passengers.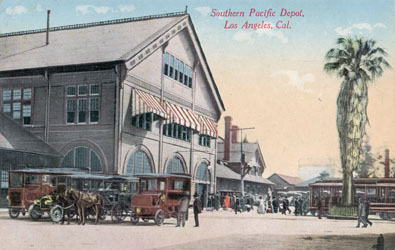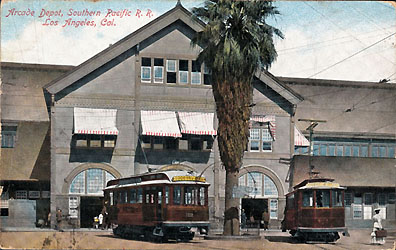 Southern Pacific Los Angeles Central Station
In 1915 SP built Central Station on an adjoining site. The new classic revival style depot was designed by architects John Parkinson and George Bergstrom. The white stuccoed building was an imposing edifice, steel umbrella-style train sheds could accommodate 16 trains. The new stations amenities included carpeted lounges, a restaurant, a lunch counter, and an emergency hospital.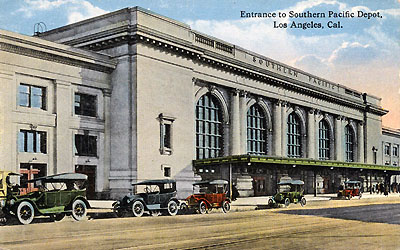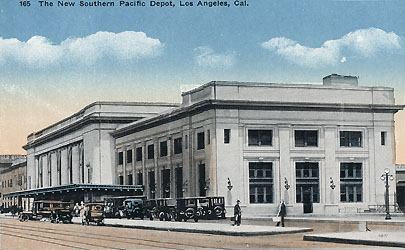 Los Angeles Union Station
In 1926, Los Angeles citizens voted to approve a union station to consolidate the different railroad terminals. When Los Angeles Union Station opened on May 3, 1939 at 800 North Alameda Street, the Santa Fe, Southern Pacific and Union Pacific all relocated passenger service to the new station. During the 1940's as many as 100 trains arrived and departed daily. The Pacific Electric and Los Angeles Railway also provided interurban and local railway service to the new depot.
Union Station was designed in part by John and Donald Parkinson who also designed Los Angeles City Hall. The structure combines Spanish Colonial Revival architecture, Mission Revival, and Streamline Moderne style. A Harvey House restaurant designed by Mary Colter is located immediately south of the mail building. The lush outdoor spaces were planned by landscape architect Tommy Tomson, who chose a selection of colorful and fragrant plants. Built at a reported cost of 11 million dollars, Union Station became known as "Last of the Great Railway Stations" built in the United States.
Los Angles Union Station was placed on the National Register of Historic Places in 1980. Today it serves as a station for Amtrak long distance trains, Amtrak California intercity trains, Metrolink, Metro Red and Purple subway lines and the Metro Gold Line. Several bus routes connect at the Gateway Transit Center.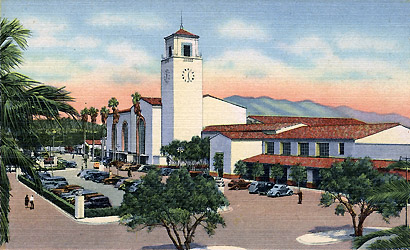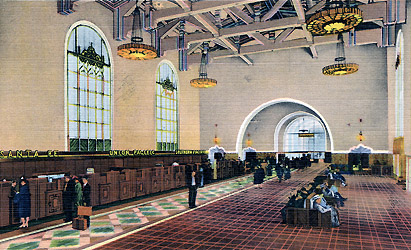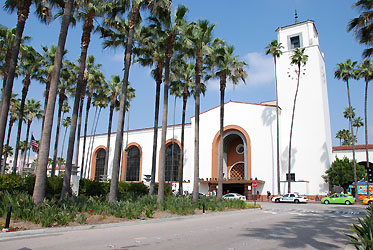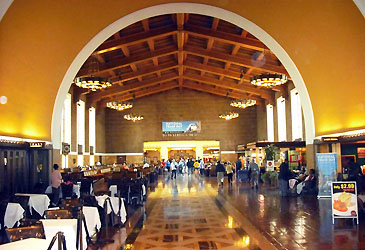 ---
Anaheim Branch Line
Southern Pacific work crews began construction of a branch line to Anaheim in the summer of 1873, which opened on January 17, 1875, allowing farmers to sell their oranges, walnuts and other produce to markets around the country.
The first Anaheim depot was constructed on the West side of Anaheim. After the railroad extended its line to downtown Anaheim, a new larger depot was built downtown in 1899, and the original depot was renamed Loara Station and lastly changed to West Anaheim Station in 1907.
The line was completed to Santa Ana in 1877, and to Tustin in 1888. While Collis Huntington had hoped to extend the line to San Diego, the SP was unable to negotiate a right of way through the Irvine Ranch.
---
Burbank Branch Line
In 1895, the Southern Pacific opened a branch line from Burbank, slanting northwest across the Valley to Chatsworth. When it first opened in 1895, the train depot at the corner of Lankershim Boulevard and Chandler Boulevard was crucial to the rapid growth of the town that was first called Toluca, then Lankershim, and finally, North Hollywood.
The depot still stands today, and is one of the oldest existing structures in the San Fernando Valley. It has been named a cultural and historic monument by the city of Los Angeles and is currently being restored.
Railroad History Train Technology Railroad Operation Railroad Time Museums & Heritage Railroads Railroads Today



Pacific Time

Photos (top) Los Angeles & San Pedro Railroad depot at Alameda and Commercial, circa 1870, Courtesy of the Dick Whittington Photography Collection, USC Libraries, (2) Southern Pacific River Station, USC library collection, (3-4) SP LA Arcade Depot, vintage postcards, (5-6) SP LA Central Station, vintage postcard, (7, 10, 11) Los Angeles Union Station, 2010-2011, Richard Boehle photos, (8, 9) Los Angeles Union Station shortly after opening, vintage post cards, (12) Southern Pacific West Anaheim Depot, courtesy Anaheim Public Library, (13) Southern Pacific Lankershim Station, 1927, LA DWP Photo Collection. Text Richard Boehle.
Entire web site copyright 2002-2015, DigitalNetExpress.com, Burbank, California.