Visitor's Guide to Orange Empire Railway Museum
Exhibits and Information
| | | |
| --- | --- | --- |
| E1 | Pinacate Station houses the museum's ticket & information office, book and gift shop, and refreshments. All-day passes can be purchased on weekends and holidays at Pinacate Station. Vintage city streetcars running on the Loop Line can be boarded. Conductors on the Loop Line describe city transit history and technology in California. Streetcars also stop at E3, E4 and E5. | |
| E2 | New Era Building houses introductory rail history exhibits. Built about 1910, this building was originally located on "D" Street in Perris. Believed to have been built to house the V. L. Hurt Real Estate Company and the Home Telephone Company, it later housed several other businesses. | |
| E3 | Car House No. 1 houses 3 foot 6 inch narrow gauge city streetcars. Included are horse cars dating from the 1870's, a San Francisco cable car, an 1898 streetcar from Japan, and Los Angeles Railway "Yellow Cars" (from "Huntington Standards" introduced in 1902 to streamlined PCC streetcars introduced in 1937). | |
| E4 | Trolley Coach Yard contains trolley coaches which replaced railway streetcars in many western cities, beginning in the early 1940's. | |
| E5 | Abbenseth Car House No. 2 houses standard gauge electric railway streetcars, suburban cars, interurban cars and locomotives dating from 1900. Cars from a variety of different western railways are included as are the Pacific Electric Railway "Red Cars." | |
| E6 | Hugh Smith Car House No. 4 houses standard gauge wood passenger cars dating from 1879, steel passenger cars dating from 1909, freight cars dating from the mid 1880's, and additional electric railway cars. Several passenger cars, including ATSF Railway Post Office Car No. 60, are open weekends on a rotating basis. | |
| E7 | Alpine Station serves as a stop for mainline trains, suburban, and interurban cars on weekends. The waiting shed is from Modjeska Park on Pacific Electric's Santa Ana Line. The switch shanty is from Clement Junction (SP and LA&I). | |
| E8 | The Middleton Collection, which is housed in two Rio Grande baggage cars, includes a century of toy and scale model railroad cars and locomotives, toy automobiles and trucks, railroad artifacts, and other historic items. | |
| E9 | Grizzly Flats Engine House No. 6 houses a 3 foot narrow gauge steam locomotive, passenger cars, freight cars, and related artifacts dating from the 1880's. Narrow gauge railways served many mining, agricultural and lumber communities in the West. | |
| E10 | Pie Yard contains standard gauge steam locomotives dating from 1917, diesel locomotives dating from 1939, additional freight cars, and passenger cars. The yard office, located at the north end of the yard, is from the Harbor Belt Line yard in San Pedro. | |
Historic Mainline Buildings
| | | |
| --- | --- | --- |
| M1 | Section Tool House, from the Harbor Belt Line at Wilmington, accommodated equipment used to maintain the right-of-way. | |
| M2 | Cottonwood Station last served as a lumber yard office near the Perris Depot. It has been used as a small town station in several movies. | |
| M3 | Maintenance of Way Buildings were located along the right of way to accommodate equipment. The section tool houses are from the Santa Fe, at Perris and Redlands. The phone booth is from Alessandro Station on the Perris and San Jacinto branch. | |
| M4 | Oil Junction Station was used for communications and control of trackage. The train order office is from the joint Southern Pacific and Santa Fe Oil City Branch north of Bakersfield. The out house is from the SP's San Pedro Depot. | |
| | Santa Fe Perris Depot, located at 4th Street in downtown Perris, is a Victorian era combination depot building which served both passengers and freight customers. It was completed in 1892. It now houses the Perris Valley Historical Museum. | |
Historic Pinacate
Pinacate, now the location of Orange Empire Railway Museum, was once a supply town for the surrounding mining district it was named after. The town was settled shortly before the California Southern Railroad built through the area in 1882.
Designated as a station in 1882, Pinacate became the site of a water tower and one of the two initial sidings between National City and Colton. The station and section house were converted box cars. Pinacate became a station on the Santa Fe transcontinental line when the line was completed in 1885. The museum's mainline follows the original right of way.
Relocation of the station, siding and water tower about 1 1/2 miles north to the new town of Perris occurred in April 1886 following a title dispute over land at Pinacate. Perris is named after Fred T. Perris, then Chief Engineer and Superintendent of construction of the California Southern Railroad.
| | | |
| --- | --- | --- |
| P1 | Pinacate Rock Dwelling is believed to be the oldest remaining building in the area, built as a store circa 1882, by L. D. Reynolds, postmaster for the Pinacate town site. Building is believed to have also served as the stage stop on route to San Jacinto. | |
| P2 | Pinacate Farm House is reputed to have been a saloon in Pinacate, built circa 1883. Later it became a farm house. | |
| P3 | Second Street House was originally a residence on Second Street in Perris. | |
| P4 | Town Hall was once part of the Army anti-aircraft artillery school in Moreno Valley. | |
| P5 | O'Neill's Streamline Diner was built in the mid 1930's to resemble a Union Pacific streamliner, fashioned from a Santa Fe coach built in 1906. It provided meals to motorists traveling along Highway 395 (now 215), about six miles north of Perris. | |
Service and Shop Facilities (Not open to the public)
| | | |
| --- | --- | --- |
| S1 | Dispatchers Office | |
| S2 | Restoration Car House No. 3 | |
| S3 | Machine Shop | |
| S4 | Duke Dyer Wood Shop | |
| S5 | Union Warehouse | |
| S6 | Motor Vehicle Shop | |
| S7 | Diesel Generator | |
| S8 | Rotary Converter Substation No. 1 | |
| S9 | Solid State Substation No. 2 | |
| S10 | Locomotive Service Area | |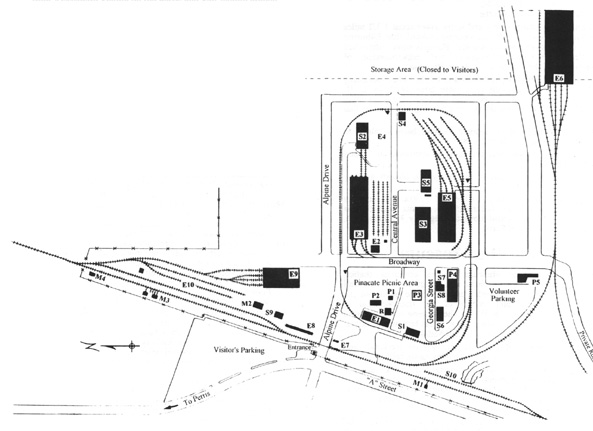 For Your Safety


- Watch for moving cars and locomotives.
- Parents please watch your children at all times.
- Do not smoke in buildings, cars or yards.
- Do not climb on or in cars or locomotives which are not open for display.
About the Museum
Orange Empire Railway Museum acquires, preserves, studies, exhibits and interprets artifacts and documents of the rail transportation industry in order to educate the public on the technology, history, and impact of rail transportation in Southern California and the West. The museum was founded in 1956. Located at this site since 1958, it has become the largest railway museum in the Western United States.
Selected locomotives and cars are operated on weekends and holidays on a rotating basis on the demonstration railway lines.
Volunteer members and private donations make museum operation and development possible. The museum is a California non-profit organization. Contributions are welcome. Membership information is available at Pinacate Station.
Additional information is contained in the museum guidebook, Railway Odyssey, which offers a further look at rail transportation in the West. It includes photos and a museum equipment roster. Copies may be purchased at Pinacate Station.
Orange Empire Railway Museum is located at 2201 South "A" Street in Perris (17 miles south of Riverside on Highway 215).
For more information about Orange Empire Railway Museum upcoming events, visit the Museum's website: www.oerm.org or call (909) 657-2605.
Preservation: Rail Transportation Museums to Visit Heritage Railroads in the Western United States American West History Museums to Visit
Sharing A Heritage Railroad History Train Technology Railroad Operation Railroad Time Museums & Heritage Railroads Railroads Today
| | |
| --- | --- |
| Pacific Time | Visitor's Guide To Orange Empire Railway Museum, copyright 1993-2003, Orange Empire Railway Museum. Text and photos by Richard Boehle. Map by Paul Hamond. |