Seth Thomas Clock Company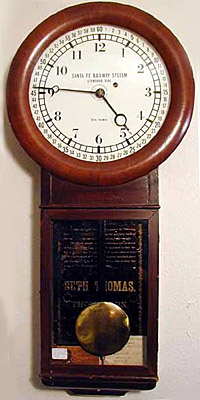 Seth Thomas began his clock making apprenticeship working with one of the foremost early American clockmakers, Eli Terry, in 1807 in Waterbury, Connecticut. Terry had received an order to produce 4,000 clocks in three years, a challenge that led to inventing methods of mass production necessary to complete the order on time. Seth Thomas worked together with Silas Hoadley, the two bought out Terry's interest in 1810.
Seth Thomas sold his interest in the partnership to Silas Hoadley in December 1813 bought out Herman Clark's clockmaking business in Plymouth Hollow, Connecticut, making wooden movement tall clocks, and about 1817 began making a wooden movement shelf clock. In 1842, brass movements were introduced, wood movements were phased out in 1845. In May 1853 Mr. Thomas incorporated the Seth Thomas Clock Company, in Plymouth Hollow (later to become Thomaston). Mr. Thomas died in 1859.
After the Seth Thomas's death in January 1859, his three sons, Seth Thomas, Jr., Aaron, and Edward continue the business. Aaron became president and began to add new clocks to the company's line. Regulator clocks were introduced in 1860. The patterns and machinery for these had been purchased in 1859 from the creditors of bankrupt clockmaker Silas B. Terry. About 1862, the firm purchased the patent rights of Wait T. Huntington and Harvey Platts of Ithaca, New York, and added a perpetual calendar clock to their line. In 1872 The Seth Thomas Clock Company purchased the business of Andrew S. Hotchkiss that manufactured tower and street clocks, adding tower and street clocks to their line. They also added a line of tall-case clocks in the 1880's.
The Seth Thomas Regulator No. 2 regulator was introduced in the early to mid 1860s. The No. 2 had a 12 inch dial and a 36 inch tall case (which varied slightly during the years). The model was produced, with very few changes, until 1950 and thus is probably the longest produced single model in clock manufacturing history. It is an 8-day weight driven clock, and because of its accuracy, graced the walls of railroad stations across North America.
The larger Seth Thomas Regulator No 3 featured a 14 inch dial and 41 inch tall case. Also an 8-day weight driven clocks, and because of their accuracy, was widely used in the railroad stations across North America.
Seth Thomas Watch Production
In 1883-1884 the Seth Thomas Clock Co., Thomaston, CT, built an addition to its existing factory on the corner of Marine Street and Bridge Street in order to manufacture jeweled pocket watches. Most of the tooling for the watch factory was built using the production facilities of the Seth Thomas clock factory. The first watch model, offered for sale in 1885, was an 18-size, stem-wind, 11-jewel, 3/4 plate model with a 16,000 beat train. By 1886, production had started on four additional grades of quick-train (18,000 beat per hour) watches: a 7J, 11J, 15J and 17J model.
The Model 2 (hunting case) and Model 3 (open face), 3/4 plate movements, were introduced in the late 1880's. The Henry Molineux grade was the highest grade made in both models, manufactured and adjusted to meet railroad requirements. During the 1890's Seth Thomas also manufactured other high grade movements with 15-jewels and 17-jewels, a patent regulator, adjusted to heat and cold, which meet the requirements in place on many railroads during the 1890's1.
In an 1890 catalog the model 2 grade No. 202 and model 3 grade No. 210 were both listed as 15-jewel, nickel movements, adjusted, with a micrometer regulator, and would likely have been accepted for railroad service at the time. By the 1896 catalog they were replaced by the model 2 grades No. 508 and No. 180 and model 3 grades No. 506 and No. 179, all 4 were listed as 17-jewel, nickel movements, adjusted, with a micrometer regulator.
Seth Thomas released the 18-size Model 5 around 1895, this was a full plate open face (only) movement, available in several different grades. The higher grade versions of the Model 5 were manufactured and adjusted to meet railroad requirements. The highest grade watch produced by Seth Thomas was the Model 5 Maiden Lane, which was produced in 17-jewel to 25-jewel versions.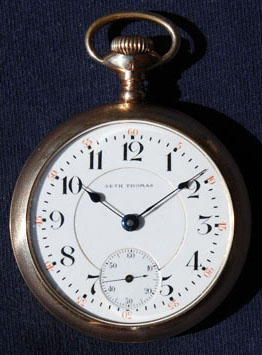 Other Model 5 watches manufactured by Seth Thomas to meet railroad service requirements included:
Grade No. 260, probably Seth Thomas' most popular railroad watch, it was 21-jewel, adjusted to 6 (later 5) positions.
Grade No. 248, 21-jewel, adjusted to 3 positions, discontinued around 1906 (watches adjusted to 3 positions, rather than the recommended 5 positions, were generally accepted in railroad service until around 1907, with some railroads including the ATSF continuing to accept them into the 1920's) .
Grade No. 382, 17-jewel, adjusted to 5 positions.
Grade No. 282, 17-jewel, adjusted to 3 positions, discontinued around 1906.
Seth Thomas Model 5, grade No. 182, marked as 17-jewels and adjusted, with a patent regulator, adjusted to temperature and isochronism, also meet the requirements in place on some railroads during the 1890's.
Seth Thomas also produced a full line of watches in 0, 4, 6, 12, 16 and 18 sizes, the primary production was inexpensive jeweled watches. During the first decade of the twentieth century Seth Thomas became one of America's largest jeweled watch manufactures. Facing difficult competition from other low cost watch manufactures, however, production of watches ceased in 1914, having produced an estimated 3.6 million watches2. The Seth Thomas Clock Co. continued to manufacture clocks.
General Time Instruments Corporation
In 1930 a holding company named General Time Instruments Corporation was formed to unite Seth Thomas Clock Company with Western Clock Company. Seth E. Thomas, Jr. (great grandson of Seth Thomas) served as chairman of the board until his death in June 1932. The Seth Thomas Clock Company became a subsidiary of General Time Corporation in 1949.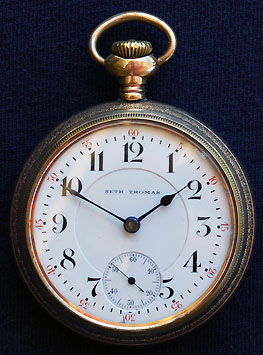 In 1955, a flood badly damaged the Seth Thomas factory. They phased out movement manufacturing and began importing many movements from Germany. Hermle, in the Black forest of Germany, has made many movements for Seth Thomas clocks.
In 1968 General Time Corp. becomes a subsidiary of Talley Industries. In 1979 the headquarters was moved to Norcross, GA. In June 2001 General Time announced that it was closing its entire operation. The Colibri Group of Providence, RI acquired Seth Thomas.
In January 2009 the Colibri Group unexpectedly entered receivership and shut its doors, laying off its 280 employees and preparing to sell all remaining jewelry, gold and silver to pay creditors. In March 2009 Alliance Time acquired Colibri Group assets, including the Seth Thomas clock brand.
Seth Thomas Watch Production Dates by Serial Number
Watch manufacturing began in 1884, was discontinued in 1914. Unfortunately company records with serial numbers and production dates no longer exist. Seth Thomas set aside blocks of serial numbers for specific models and grades, the Seth Thomas Watch Material guide published in 1904 indicates the range from 200,000 to 400,000 was set aside for model 5 movements which were manufactured between approximately 1895 to 1914. Given these challenges, approximate date range tables have reconstructed, following is the table published by Roy Ehrhardt & William Meggers, Jr.3
| | | | |
| --- | --- | --- | --- |
| 1885 - 4,000 | 1893 - 204,000 | 1901 - 552,000 | 1909 - 1,177,000 |
| 1886 - 9,000 | 1894 - 246,000 | 1902 - 604,000 | 1910 - 1,325,000 |
| 1887 - 20,000 | 1895 - 288,000 | 1903 - 657,000 | 1911 - 1,835,000 |
| 1888 - 50,000 | 1896 - 334,000 | 1904 - 710,000 | 1912 - 2,355,000 |
| 1889 - 80,000 | 1897 - 376,000 | 1905 - 763,000 | 1913 - 3,000,000 |
| 1890 - 110,000 | 1898 - 418,000 | 1906 - 817,000 | 1914 - 3,600,000 |
| 1891 - 150,000 | 1899 - 460,000 | 1907 - 937,000 | |
| 1892 - 176,000 | 1900 - 500,000 | 1908 - 1,057,000 | |
Note: These are approximate dates, actual dates may vary by years. The serial number being referred to is the serial number on the movement of the watch, not the case.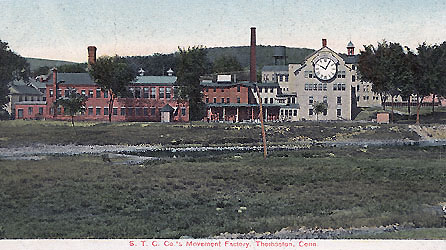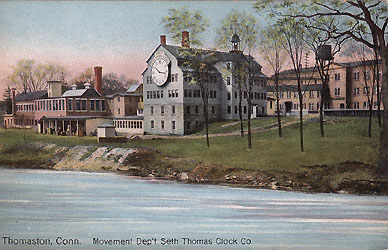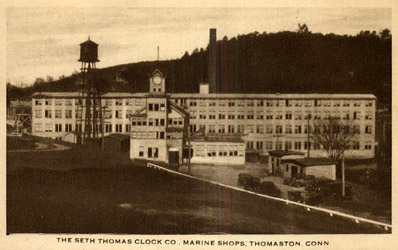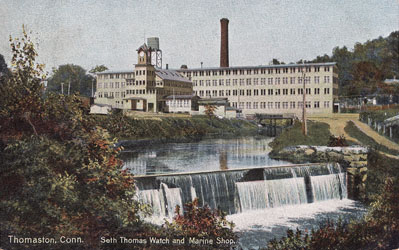 Links to other sites, references for additional information:
Internet Horology Club 185™ Forum, Time Keepers Photo Gallery- In Search of Seth Thomas

Chris H Bailey, Seth Thomas Watches 1885 - 1915, American Clock & Watch Museum, Inc. Bristol, CT, 1981.
1 The Illinois Central Railroad Co. requirements published in The Jewelers' Circular - Weekly and Horological Review July 6, 1892, for example, indicated the minimum standard for watches is "of a grade equal to what is known among American movements as fifteen-jewel, patent regulator, adjusted to heat and cold, the variation of which must not exceed 30 seconds per week."
2 Harold, Michael C. American Watchmaking: A Technical History of the American Watch Industry 1850-1930. A supplement to the Bulletin of the National Association of Watch and Clock Collectors, Inc., Number 14, Spring 1984, Columbia, PA., pgs. 133-136.
3 Roy Ehrhardt & William Meggers, Jr., American Pocket Watches Beginning to End...1830-1980, Identification and Price Guide, Heart of America Press, Kansas City, MO, 1987.
Watch Manufactures:
Ball Columbus Elgin National Hamilton Hampden E. Howard Illinois Rockford South Bend Seth Thomas U. S., Marion U. S., Waltham
Sharing A Heritage Railroad History Train Technology Railroad Operation Railroad Time Museums & Heritage Railroads Railroads Today

Part of the material used for research courtesy of the National Association of Watch and Clock Collectors Library and Research Center.
Entire web site copyright 2002-2014, DigitalNetExpress.com, Burbank, California.